Upskill with learning platforms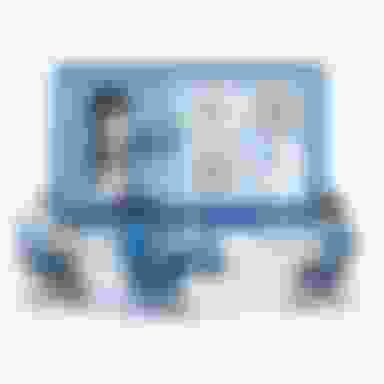 Providing training and development opportunities for your team can help increase their expertise in the skills needed for your business, and it can set your employees up for success in their future endeavors.
While that may sound like you're investing in someone who's just going to end up leaving, fear not! A survey conducted by SHRM in 2022 found that 76% of employees said they're more likely to stay with a company that offers continuous training. Investing in your employees is a sound investment in your company— and your team's future.
There are several learning platforms available, and we've rounded up five of the best—from pre-recorded course libraries for in-demand skills to fully customizable learning tracks.
LinkedIn Learning is an online learning platform tailored for employee training and professional development. Users can choose their own classes, or you can curate a specific curriculum for your employees to help them learn critical skills.
LinkedIn Learning boasts a library of more than 16,000 courses across seven languages, from finance essentials and strategic thinking to interpersonal communication and emotional intelligence. So, you can rest assured there's something for everyone.
The cost for teams of two or more is $379.88 per seat/year.
GoSkills is a training platform specializing in corporate skills training, focusing on in-demand skills like data analysis, project management, business writing and leadership training. It also offers courses in soft skills (e.g., public speaking, customer service training, body language) and even office productivity (e.g., Google Drive, Keynote).
GoSkills also gives you the ability to create your own courses through its Course Builder feature. Users can track their own goals, and courses are gamified to keep them motivated. GoSkills also provides reporting and analytics for progress tracking.
The cost for teams of two or more starts at $29/month or $14.50/month if paid annually.
Udemy Business is a learning platform with more than 8,000 courses to help upskill employees. The company offers on-demand, immersive and cohort learning to bridge skill gaps and increase productivity. Training can be personalized for team members, guiding them to recommended courses to improve their skills and knowledge.
Udemy Business features include a course builder so users can create their own content for their teams. It includes courses that can help prepare employees for upcoming certifications, specific learning paths and powerful analytics for tracking employees' progress.
The cost for teams of two or more starts at $360/user per year.
EdApp is a free mobile corporate training platform that has more than 1,000 courses to choose from. It allows users to add and edit their own content to reinforce their own company policies and processes. Building your own course is simple— choose from ready-made templates, videos, quizzes, games, assessments and more.
Categories of courses range from sales and leadership to workplace culture and self-improvement. EdApp also has an Analytics Suite, allowing businesses to track compliance, spot problems early, and design better learning outcomes with its built-in reporting and analytics.
The basic package is free, and subscriptions, which start at $2.95/user per month, allow for a customized experience with a team of EdApp's experts.
Coursera for Teams is an online learning platform with a catalog of more than 5,200 courses, 200,000 short clips and lessons, 3,300 guided projects, and more than 640 specializations to choose from. It allows businesses to build curated learning programs for employees, as well as track their enrollments and learning hours.
Courses include a range of classes, from introductory business lessons and mental health to culture-driven team building and digital marketing. Learners can earn shareable certifications when they complete courses.
The cost for teams of five or more starts at $399/user per year.
Invest in learning
Remember that investing in your employees plays two important roles: It helps your team build their skill sets and benefits your business. In a time when companies struggle to retain their best employees, offering continuing education is key in getting them to stay.
Back to issue